Tearfully Grateful
Delightfully Surprised
Speechless from Appreciation

How will your loved one react when you give them the cherished gift of a photo book?

By enrolling in this course, this is what you'll get:
Over 25 videos to tell you exactly what you need to know from start to finish.
40 Double Page Fully adaptable Grayscale Templates in both 10x8 and 12x12 sizes.
100+ professionally designed word art (not just for travel)!
My exclusive photo action to save you a boat load of editing time.
And so much more!

Not a traveler? Not a problem!
Stories From the Road is adaptable to any themed photo book. The only section dedicated to travel is Before You Go. See the course curriculum for more details.

Frequently Asked Questions
When does the course start?
I've saved you a seat. Class starts NOW!
When does the course finish?
It never ends! The material in this class can be used over and over again to create an endless number of themed photo books.
How Is a Photo Book Different From a Scrapbook?
This class helps you create a photo book, not a scrapbook. What's the difference? A photo book focuses more on pictures and words and less on page design. Because of this, photo books take a lot less time to create and are greatly appreciated by a wider audience.
What skill level does this class require?
Come one, come all. This class is beginner-friendly! If you get stuck in the video, the manuals will have step-by-step instructions, and you can reach out to the instructor anytime.
Will you teach me how to edit my photos?
This class teaches the basic photo editing skills of perspective and straightening. An action is also included that will lighten, sharpen, and saturate photos.
DISCLAIMER
This class will not offer vacation destination advice, recommend a good camera, or teach you how to use a camera.
What software do I need?
The lessons in this class are filmed in both Photoshop and Photoshop Elements. The policy of Digital Scrapper and QwikLearn is to support the last four versions/years of software. But because this class does not rely heavily on new features, even old versions will be able to follow along.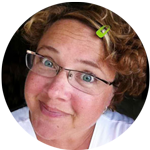 Whenever my family gets together, we snatch the scrapbooks and photo books off the shelf and sit and reminisce about the adventures we've had on family vacations.
Our books remind us that we matter. Our books remind us that we belong. And most importantly, our books remind us that we are deeply loved.


Hi! I'm Jen White.

I've had the grand pleasure of teaching Photoshop and Photoshop Elements since 2009. Journeying with you through the pages of a classroom is one of my favorite things, and I cannot wait to see what you create and experience through Stories from the Road.


My Guarantee: Love It Or Get Your Money Back
I take your satisfaction seriously. If you're unhappy with this class for any reason, email me via the Help link and ask for a refund within 30 days of purchase to get your money back, no questions asked.