Cut through the trial and error,
and let Jenifer Juris show you
the savvy way to shatter shapes!


The result will be
a collection of beautiful stories
told by you and Photoshop.

Section 1: Shattered Shape Template, Start to Finish
Section 1 starts by showing you how to
create a shattered heart template
step-by-step, from start to finish.
Then, you'll review the process by
creating a shattered triangle template
from start to finish.

Section 2: Custom Fasteners

Download and discover the magic behind
Jenifer's exclusive Custom Stitch Action Set.
It's as easy as 1-2-3.
Instantly stitch any selectable shape!

Add the classic look of hand-drawn lines
to your shattered pieces.
Jenifer will show you how easy it is
in this step-by-step video tutorial.

Included in the download are
two more options
for expertly fastening your shattered shapes.

Challenge yourself to try different shapes
from the Shape Picker of the Custom Shape Tool!

Don't limit your imagination to just papers.
Add photos to the mix for an entirely different look.

Finding yourself hindered
by your lack of imagination?
Jenifer has thought of that, too!
The Visual Guide PDF provides guidance and tips
for paper choices, page design, and more!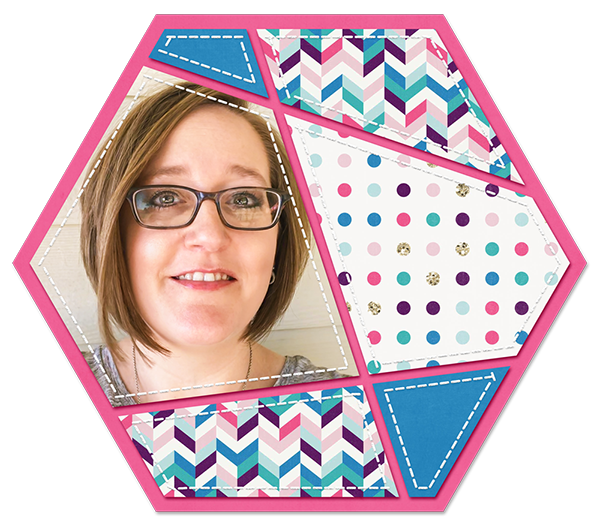 Meet Your Instructor

My name is Jenifer Juris, and I'm your instructor for Shape-Up Templates: Shattered Shapes. I know how hard it is to find the time to recreate creative trends. Sometimes, it seems easier to rinse and repeat instead of trying new things. As a long-time instructor for Digital Scrapper, I'm here to show you the easiest way to make a trendy, eye-catching set of coordinating templates. I'm excited to share with you my love of page design while also having fun with the tools in both Photoshop and Photoshop Elements. You're going to love the pages you make!

Creating your own unique page designs isn't always easy. Sometimes you need help in the way of step-by-step lessons, visual inspiration, and tips from experts. That's what Shape-up: Shattered Shapes is all about. It will equip you with everything you need to create stunning pages and let you skip the frustration of trial and error.


Here's how it works: First, I'll show you how to create a shattered shape template from start to finish. Second, I'll show you three ways you can dress up your templates with custom fasteners. And finally, I'll give you a couple of challenges to help you create your own templates for page creation. 


Sign up now so you can stop being frustrated with the creative process and start making pages you love.

Is this Shape-Up: Shattered Shapes right for you?

This class is for Photoshop Elements & Adobe Photoshop.
It's self-paced. You decide when to start and finish.
It's 100% downloadable.
You can also stream online with Closed Captions.
Enjoy Forever Access & our Satisfaction Guarantee!
Questions about Shattered Shapes? Contact Jenifer Juris.