Are you tired of time-consuming trial and error
when trying to replicate a trendy digital design?

In this class, you can stop the frustrations
of trying to figure out complicated die-cut designs
on your own,
and start telling your stories beautifully
by using Syndee's easy to understand,
step-by-step process to create
customizable word & element die-cut templates.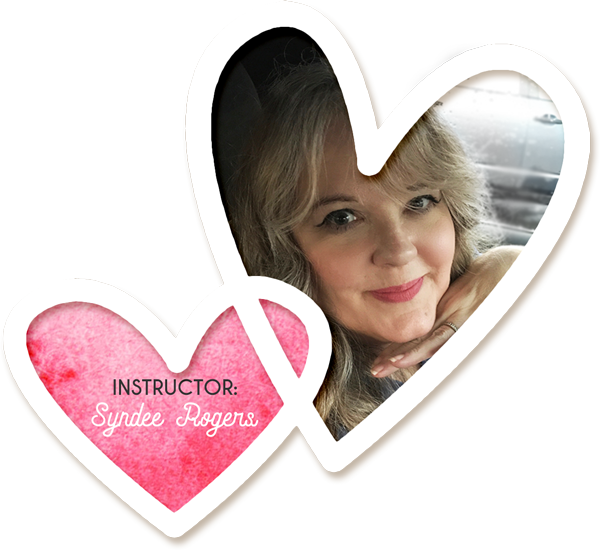 Hi, I'm Syndee Rogers, your instructor for Delightfully Die-Cut. I totally understand the frustrations that can come from trying to replicate the effect of a trendy page design. As a seasoned instructor, graphic designer, and Photoshop expert, I am passionate about helping you understand your program, grasp complex ideas, and have tons of fun along the way. I can't wait to see what YOU create in this class.

Use organizational skills and super-powered styles
to create fancy overlapping stroked letters
that will give your scrapbook page a designer look.

Continue building on your die-cut skills
by combining and blending mismatched fonts
to give the appearance of fancy flowing letters.
Explore the endless opportunities available
using shapes, fonts, and elements from you own stash.

Use a pattern fill layer and blend mode
to create a fabulously-textured white paper
for clipping to all your die-cut creations.

To tell beautiful stories, you sometimes need extra inspiration, step-by-step instruction, and expert guidance. And then there's the fact that Photoshop can be difficult and frustrating. We've been there. We know how that frustration can take the fun and relaxation out of scrapbooking. That's why we offer step-by-step professional training for digital scrapbooking. Here's how it works for this class:

First, you'll learn how to create an amazing overlapping die-cut design
Next, you'll learn to turn that effect into a spectacular blended and flowing die-cut design
And finally, you are introduced to the powerful influence of designing die-cuts with shapes and elements
Enroll today so you can stop putting off next-level learning and start scrapbooking with confidence and style.

Is this class beyond your skill level? Before beginning this class I recommend that you have a good grasp on your software program. However, all our classes are designed with the beginner in mind, taking you step-by-step through the entire process.


Don't have time to take this class? No problem! Our classes include FOREVER ACCESS. You decide when to start and when to stop.


Is the class too expensive? While we do try to keep our value high and our prices low, we do offer payment plans for those on a budget.


Afraid you won't like the class? Don't be. We have a 30 day, money back, no questions asked, guarantee on all our courses.


Worried you won't be able to keep up with the pace of other students? No worries. There's no pressure to keep up. You can learn online or offline. All content is fully downloadable.

Supported Software
Photoshop Elements v2018 and higher
Adobe Photoshop (Most current Creative Cloud version)
Private Forum & Gallery
Not on Facebook!
Must enroll in this class to become a member.
Gain direct access to your instructor.
Your Satisfaction Is Guaranteed
We take your satisfaction seriously!
If you're not satisfied with your investment, request a 100% refund within 30 days of enrollment.
No questions asked.
100% Downloadable Content
All videos, manuals, and class downloads are downloadable.
Stream the videos online, or download the videos and watch offline.
Closed-Captioning
Closed-captioning is available when streaming videos online.
Downloaded videos do not contain closed-captioning.