Guide to Online Sharing

Scrapping with Filters, Stamp & Paint
Guide to OnLine Sharing
What NOT TO Share
Do not share your results of Section 1 using MY photo. Why? They should all be the same. If you have questions about Section 1, please contact me.
Do not share your bare Section 2, Challenge results. Instead, feel free to share the results after placing them on a scrapbook page or greeting card. If you have questions about Section 2, please contact me.
What TO Share
Share how you used the instruction using your own photos, or elements or papers from your stash. When doing this, make sure to give credit to the photographer or designer.
Always feel free to share your thoughts on the class and recommend it to others!! YOU are my best advertising. [hint, hint]
Where To Share
How To Share
Save your completed project (File > Save As) as a flat JPG file in an easy to find location. For Facebook, Save For Web is not necessary.
Add your JPG file into a comment on Facebook or upload it into a gallery.
Say something nice. Nice words are a must on Facebook!
Use the hashtags #digitalscrapper and #stampandpaint. Copy and paste these if it helps. These hashtags will work across all social media platforms.
ALWAYS give credit for photos, supplies, fonts, and classes/tutorials. This is part of the terms of use of the products you are using.
Add a flattened JPG of your results. Saving for web is not necessary for Facebook.
Add our Stamp&Paint topic to your post.
Await the multitudes of praise that will be added to your post. Praise is exhilarating and it will add wind to your sails as you journey along in your creative endeavors.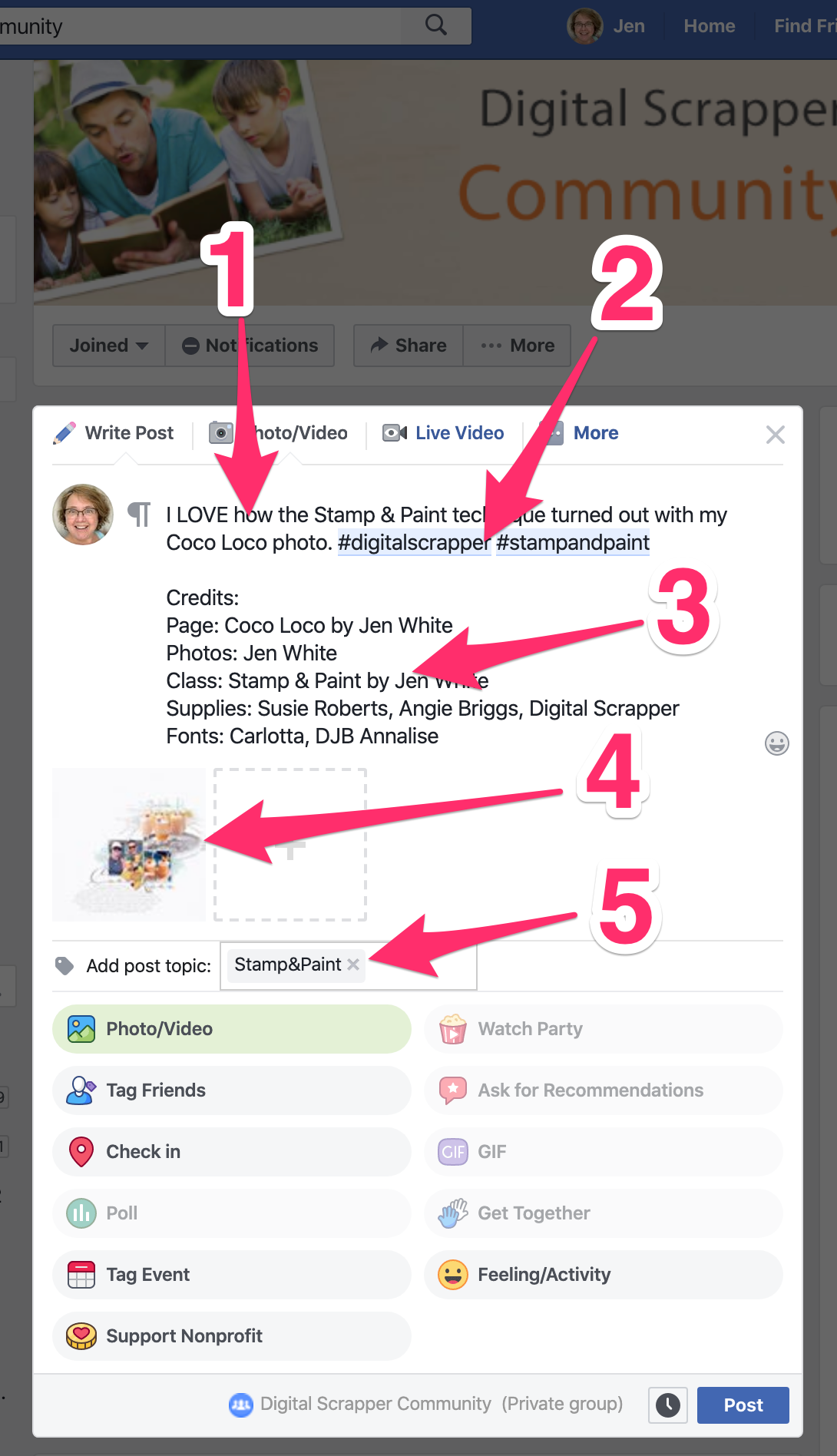 Complete and Continue